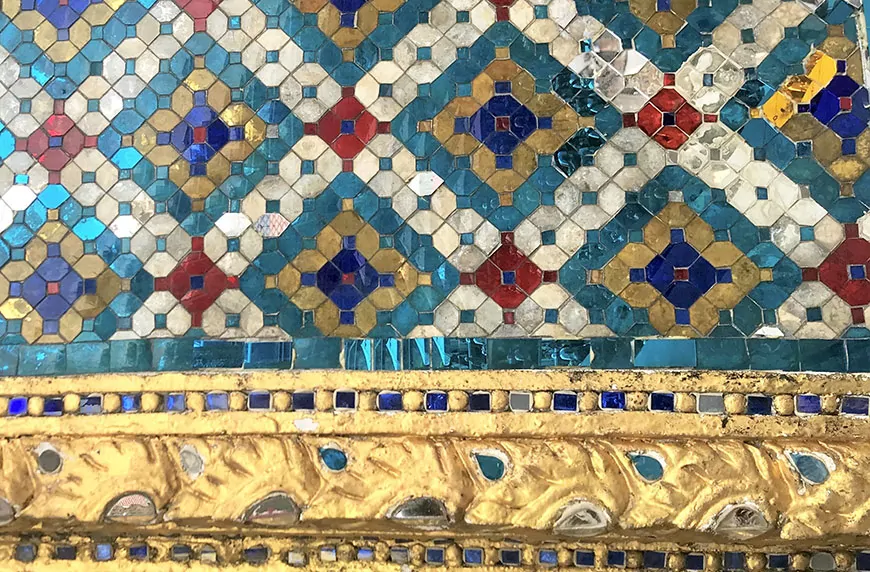 Whether you have an eye for design or not, it's impossible not to notice the natural gift Thai people have in their sense of creativity. Whether it's through art, design or architecture – Thailand is a visually stimulating country for your creative senses.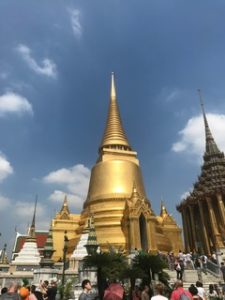 1.Temples and Architecture – Wat Pho, Wat Arun & The Grand Palace
If any of these names ring a bell, you would surely conjure up images of glistening, golden pagodas and multi-tiered roofs of reds, golds and greens. Wat Pho, is one of the oldest wats, or temples, in Thailand and hosts the largest reclining Buddha statue in Thailand at 46 meters long. It's awe-inspiring grandeur is housed between ceiling-high murals of stories depicting Lord Buddha and his life. Upon looking at these detailed depictions, you can't help but admire the patience and artistry put in to each of the works. At the base of the statue, his feet, are 5 meters long worth of inlaid pearl. This is handmade mastery at it's finest.  The Grand Palace, built in in the 1800s, sits adjacent to Wat Pho and is equally beautiful. The expansive grounds are home to former royal residences, temples, gardens, libraries and even European-influenced structures that were built later through the years.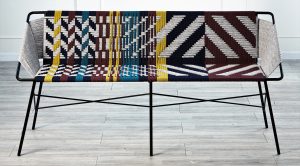 Each pavilion has been made with intricate details on their facades. A mosaic of mirror work and ceramics adorning the swooping roofs and others entirely gilded in gold leaf sheets. Wat Arun, across the river banks, has been recently renovated and now shines in shimmering white and gold. Demon gods decorated with mosaics are flanked on several corners as protection from evil. Similar architectural gems are sprinkled around the city and you can't help but admire the juxtaposition of the temples and the cityscape together.  Not only are they visually inspiring but they also exude a deep, spiritual essence.
          2. Jim Thompson House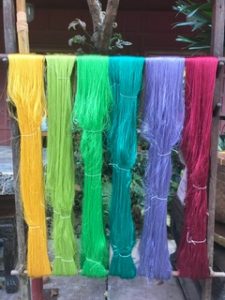 Jim Thompson, a very foreign name for essentially a very Thai brand. Who was Jim Thompson and why would you visit his house in Bangkok? Thompson was an American that had trained as an architect in New York in the 1930s and had a love for fashion and art. However, due to his political interests, he changed paths and joined the U.S. army which eventually brought him to Thailand in the 1940s. His passion for textiles and art were met again when he arrived in this exotic country. Thompson was captivated by the beauty of the handmade silks and immediately sought to create a niche following for the textile that once was Thailand's forte. This admiration for textiles, led him to almost single-handedly save the Thai silk industry which was slowly being wiped out by mass-produced synthetic silks and imported fabrics. His house, a traditional wooden Thai house on stilts, sits on half an acre of land and showcases his fabrics and upholstery in all their glory. You may also visit the museum in the vicinity to peruse his hefty Asian art collection. Although his mysterious disappearance in 1947 has left many questioning the controversies, it's is no mystery the impact he has left in Thailand. Immersing yourself in his story, is immersing yourself in Thai silk history and the reputation it upholds worldwide thanks largely to Jim Thompson, himself.
         3. Bangkok Biennale & Thailand's Art Scene
Biennale, Italian for biannual or 'every two years', started off as the Venice Biennale, a celebration of the fine art in 1895. The event grew at an exponential pace and soon began to include various other festivals including music, cinema, theater and more recently, dance. Thailand being rich in culture and heritage was selected as a venue for the Bangkok Biennale in 2018. Through this platform, Thailand was able to showcase their talent on a global scale.  This was a huge win for the country – hosting the Biennale secured the kingdom as a burgeoning hub of art and creativity that we always knew it was. Thai Artist, Kawita Vatanajyankur, roused the local art world with her powerful feminist messages gaining her privileged invitations to showcase at the Venice Biennale as well. The growing number of art galleries in Thailand is also a testament to the fact that artistic talent is being recognized right here in it's home.
        4. The Art of Thai Food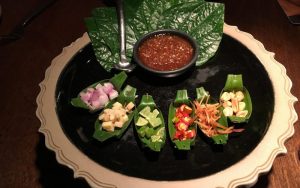 Thailand is synonymous with it's food culture and for good reason. The amalgamation of flavors; hot & sour; sweet and salty, make for a gastronome's paradise. It's a harmony of flavors that meld together seamlessly. Traditional Thai food presentation features an array of garnish that is almost too beautiful too dismantle. Think banana leaves folded into cups to hold herbs & spices; exotic fruits carved into flowers or birds that frame the platter of delicacies. It's hard not to appreciate the craft that began as early as the 14th century during the Sukhothai Dynasty.
        5. Thai Ceramics
Intricate designs adorn the glossy jars atop the hotel lobby shelves. What is now ubiquitously seen as a decorative item, Benjarong ceramics, were once only used as dinnerware for royalty or aristocratic households. The origins of these traditionally Thai crafts hailed from China during the Ming Dynasty as early as the 14th century. Their repetitive design and gold accents speak volumes of the artistic skill and patience of the craftsmen who decorated the delicate ornaments.
With all these factors in mind, it's easy to see why Thailand can move your senses and be a source of inspiration for design. With each element or material, tells a story that can spark interest in the beauty that Thailand holds. This is why Thailand truly lends itself as a design haven.
Sources:
https://theculturetrip.com/asia/thailand/articles/thailands-spectacular-fruit-carving-tradition/
http://www.thailand-guide.com/benjarong/thai-art/benjarong-porcelain.htm
http://www.bangkok.com/product-reviews/jim-thompson-house-and-suan-pakkad-palace-review.htm
https://en.wikipedia.org/wiki/Venice_Biennale
https://theculturetrip.com/asia/thailand/articles/a-brief-history-of-the-grand-palace-in-bangkok/
---